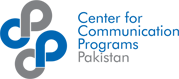 Center For Communication Programs Pvt. Ltd.
Terms of References for Media Buying on TV & Newspapers
Center For Communication Programs Pvt. Ltd.
1204 views
Posted date
23rd January, 2023
Last date to apply
30th January, 2023
Category
Consultancy
Type
Contractual
Status
Closed
Terms of References for Media Buying on TV & Newspapers
Introduction:
CCP Pakistan is supporting multiple development projects in achieving their development objectives. These projects are funded by multiple donors, INGOS, multilateral institutions and private sector organizations. The firm needs the services of a credible media buying agency in Pakistan that can plan and buy media on TV and Newspaper across Pakistan while delivering media monitoring reports as proof of delivery along with transmission certificates and published advertisements where applicable.
Scope of Work:
The scope of the project is to plan, buy and monitor media on multiple channels and publications across Pakistan. Some of these channels and publications are mentioned in the excel sheet, attached for financial working with these TORs. The selected agency has to ensure media buying based on an approved media plan within 48 hours of approval, ensuring delivery across all committed channels, newspapers and platforms. Central to these services are media monitoring reports, to be provided as proof of delivery.
Furthermore, the said agency is expected to identify and create value added opportunities like integration of content in existing TV programs, newspaper advertorials, media briefings, facilitating press conferences etc. Also, the firm is expected to proactively propose potential media placement opportunities most relevant to the campaign needs of CCP Pakistan.
Eligibility:
A leading media buying agency in Pakistan with the following eligibility criteria:
Minimum two years' experience of media buying in the country.
Accreditation from Pakistan Broadcast Association (PBA) and All Pakistan Newspaper Society (APNS)
Media Planning Software that plans media scientifically on the basis of GRP Ratings
Turnover should be more than 500 million per year.
Deliverables:
The deliverables of the agency are as follows:
Media Planning based on Brief
Media Buying and Placement
Media Monitoring Report
Value Additions Report
Delivery of Transmission Certificates and Published Advertisement
Payment Terms:
The payment terms are as follows:
50% after delivery of proof of placement of all content on media
50% upon receiving the transmission certificates and the newspaper adverts
Apply By:
Timelines:
Potential companies are requested to submit their company profile and financial proposal on the attached excel sheet and submit it to CCP Pakistan by hand as well as email them to Nouman Sajjad - [email protected] . The financial quotes will remain valid for 02 months.
For any query, please write us on [email protected] by January 26,2023
All sealed company profile and financial quotations should reach CCPP by January 30, 2023 at the following address:
Attention: Procurement Department, CCP Pakistan
CCP House, 3F, Street 19, Rabbani Market, G-10/2 Islamabad Pakistan